Very very excited to be preparing for the return of Ryan's Rugby this Thursday 23rd September! The annual (well almost) event is at
Clifton Rugby Club
from 5.45pm.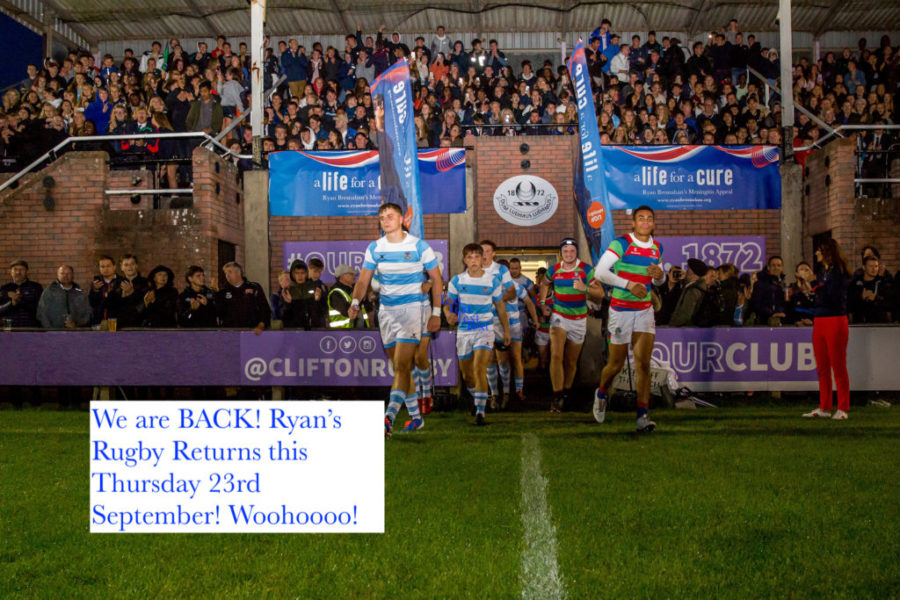 Clifton College is playing Rugby School at U14, U15 & U16 with the 1st XV match at 7:30pm. Come early though as the car park gets super busy. You can enjoy watching the Prep schools match at 5:45pm – Clifton College v The Downs and there's a bar, BBQ and the usual raffle!
This event is very special to Ryan's family and the charity. It was Ryan's friends who came up with the idea in 2010 to celebrate his life by playing one of his favourite sports against different schools to share his 'next chapter' and increase meningitis awareness. With the generosity of the spectators and schools participating over the years, the evening has also contributed £20,000 to the charity's fundraising.
Click here
for a snapshot of this fab event from above.
We cannot wait to experience the buzzing atmosphere again and welcome Rugby School this year. We are hugely grateful to Clifton College who with their support and enthusiasm, has successfully created this Memorial Match into a real festival of rugby. Ryan would have absolutely loved attending it, with the banter, outstanding rugby, passion and singing along to Sweet Caroline!
Please please come along – everyone is welcome. We would really love to see you – we've missed you!